Baustoff + Metall Romania
Trockenbau-Fachhandel mit System
As a retailer specialized in dry systems, Baustoff + Metall offers solutions to meet any need. Our customers can choose from a wide range of tested and certified solutions that are produced by the best companies in the field, talking to a single representative who can advise and guide them to the best choice. Each client is important to us, the common success being our goal, thus, the most innovative personalized solutions come to life to satisfy the most unique needs.
What sets us apart from other dealers? We are professionals, passionate about dry constructions and we offer complete and safe services. We provide customer support, complete consulting and support services, as well as developing complete solutions, including for specific and special circumstances.
The philosophy of our company is based on providing quality services and is based on three principles:
Technical competence
Quality products
Thinking in perspective

B+M Logistics
Top services
Top services and support at the highest level!
B+M offers its customers excellent logistics service, deliveries are fast and accurate. Once you have chosen B+M you will immediately have the following benefits:
Absolute flexibility in selecting and managing your goods!
Punctual delivery guaranteed directly on the site!
Operations done in the best way in your yard!
Maximum reliability for the transport of materials, deliveries when needed and where needed. These are the strengths that distinguish B+M from the competition! We are never left unaffected by the difficulties of accessing your jobsites, we are the only ones equipped with professional vehicles to pick up and move goods, we are able to unload the materials exactly where it is needed, saving you time and money.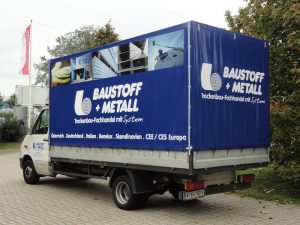 ---
Any questions? We help!
Tel: +40 372 716 555
Fax: +40 372 873 555