Speed, precision and reliability in your interest
As a B+M customer you can enjoy excellent and the best services. Deliveries via a B+M warehouse offers the following benefits:
1. Absolute flexibility in choosing and managing goods!
We have a permanent stock of materials and we deliver them efficiently – the logistics are easy when you work with the right partner.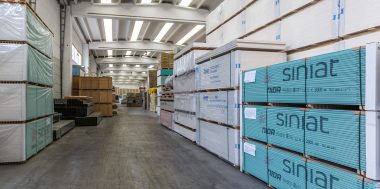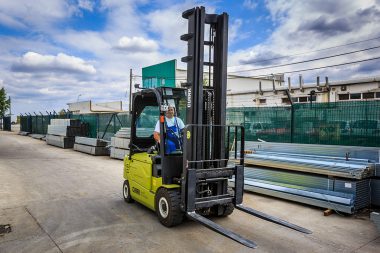 You can order the desired product by choosing from our entire range, without being required to order a minimum quantity. Even small-scale deliveries, special palletizing according to the number or weight, are quick and not a problem for us.
2. Guaranteed delivery on time – directly on site!
If you need delivery at a certain time, we can already guarantee that a B+M truck will be ready for you. Our drivers know the delivery areas and have adequate resources and technical skills, allowing them to pay constant attention to transport security.
3. Work in the most efficient way in your site!
Thanks to our specific equipment, unloading can be done wherever you need without requiring any other handling equipment or special ramps, as we can guarantee a secure placement of your goods on site up to a lifting height of approx. 20 meters. Is it difficult to solve the problem of storage space on site? Now it's no longer a problem! We can deliver the required quantity of goods daily.
Through anticipatory thinking, we are not just looking for, but we actually find the right solutions for you, and that should be at least one reason to determine you to use our services.
---
Evaluation criteria
Delivery from stock
Direct delivery
Possibility to choose the products/manufacturer
(Plasters + structure + insulation etc.)
Benefit
Drawback
Possibility of choosing the quantity
(without a minimum quantity)
Benefit
Drawback
Time for placing, processing and delivering the order
(sometimes only several minutes)
Benefit
Drawback
Arrival of the order at destination
(reduced distance, shorter waiting time)
Benefit
Drawback
Packages suitable for weather conditions
(choice of products in real time, depending on weather)
Benefit
Drawback
Constraints of site space
(possibility of repeated deliveries)
Benefit
Drawback
Vehicles suitable for construction sites
Benefit
Drawback
Real-time information
(you can always know where your order is located)
Benefit
Drawback
Price of the material
Drawback
Benefit
Final price of the site
Benefit
Drawback