A combination of winning products
Acoustic ceilings
Metal ceilings
Mineral fiber ceilings
Wooden ceilings
Forms and functionality for total freedom of use
Baustoff + Metall works in synergy with market leaders, providing innovative and functional solutions in the suspended ceilings industry. Depending on customer needs, we can certainly provide the most suitable solution because the false ceiling palette is so varied that the execution modes, together with the type of material, are infinite. Regardless of your request, we are sure we can satisfy it from every point of view, whether it's about acoustics, climate, brightness or personalized project, B+M has a proposal for you. Due to what the dry construction is able to offer in terms of ceilings, ultimately aesthetics and efficiency are no longer a contradiction.
Top energy efficiency
Sustainable construction, saving resources and reducing operating costs, increasing comfort, these are our main goals.
A well-designed ceiling with high light reflection enhances the illumination of space, allowing for fewer luminaires, low light-emitting flux, lower maintenance costs and reduced cooling.
Whatever your ceiling project might be, we help reduce environmental impact with responsible solutions, from product design and raw material selection to production and logistics.
Acoustic solutions
The ceilings for acoustic correction are undoubtedly one of the most important elements of modern design. From office to bar, from restaurant to meeting room, from mall to classroom, acoustics play a key role. Here are the applications of acoustic ceiling systems to absorb sound vibrations. When it comes to meeting aesthetic requirements, creativity in the use of space makes the ceiling a very flexible and customizable solution, making it the ideal solution. Tell us the problem, together with B + M you will find the solution.
Metal ceilings
Elegance, acoustics, hygiene
Our lifestyle changes from time to time, both in qualitative, practical, aesthetic and functional terms.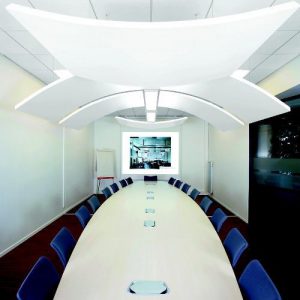 It is time to choose the ceiling in a multitude of environmental areas according to requirements: office buildings, medical centers, educational and sanitary units, sports and conference halls, hotels and motels, shopping centers, industrial halls and warehouses etc.
Metal ceilings certainly provide a high level of elegance, hygiene and precision. The ability to customize colors, perforations and dimensions helps the customer in its choice. Hygienic safety means that there are suitable models to be installed in sterile environments due to the treatment applied to ensure good cleaning and resistance to disinfectants as well as anti-microbial and clean room performance.
Besides the aesthetic appearance, the suspended metal ceilings are also characterized by high sound and thermal insulation parameters.
Mineral fiber ceilings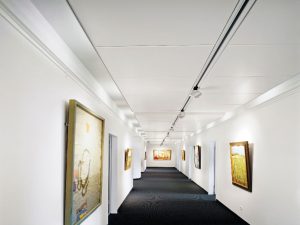 Suspended ceiling systems have shifted from providing mainly functional features (masking, building infrastructure and at the same time providing accessibility) to contribute to a much larger scale for indoor, acoustic and environmental design, the global impact with innovations.
Mineral fiber ceilings offer a wide range of solutions that meet the various technical, functional and aesthetic requirements. A variety of surface finishes available in sizes, geometries, details and various edges.
Stone wool ceilings
The raw material, of which the stone wool is produced, is 200 million years old rock: basalt. We have been able to break down the natural power of stone into various strengths that are inherent in the versatile properties of stone wool.
Fire resilience: stone wool withstands temperatures above 1000 °C.
Acoustic capabilities: stone wool absorbs or enhances sounds.
Durability: stone wool increases performance and stability with lower costs.
Health & Safety: stone wool is a low emitting material that does not provide sustenance to mold, and it naturally supports indoor air quality.
Moisture resistance: stone wool is water repellent.
Circularity: stone wool is reusable and recyclable material.
Wooden ceilings
Wood gives simplicity and elegance, smooth and modern surfaces, classic but yet trendy and skillfully used it can create exactly the environment that is needed to generate a special space. More and more architects choose wooden ceilings to for added luxury to projects.
Benefits:
Style and elegance for any interior
Multiple options and sizes for veneering
All performance needs are covered
Easily adjustable mounting system
Natural, solvent-free material and 100% recyclable at the end of the lifecycle.
Modular ceilings
Mounting speed, low cost, efficiency depending on the panel chosen make modular ceilings represent a considerable percentage of use within the entire suspended ceiling sector. Baustoff + Metall wants to be the best and the one you choose as a supplier/partner. We believe in quality, we believe in training, we believe in ourselves and we will never recommend a product just because it is the cheapest.